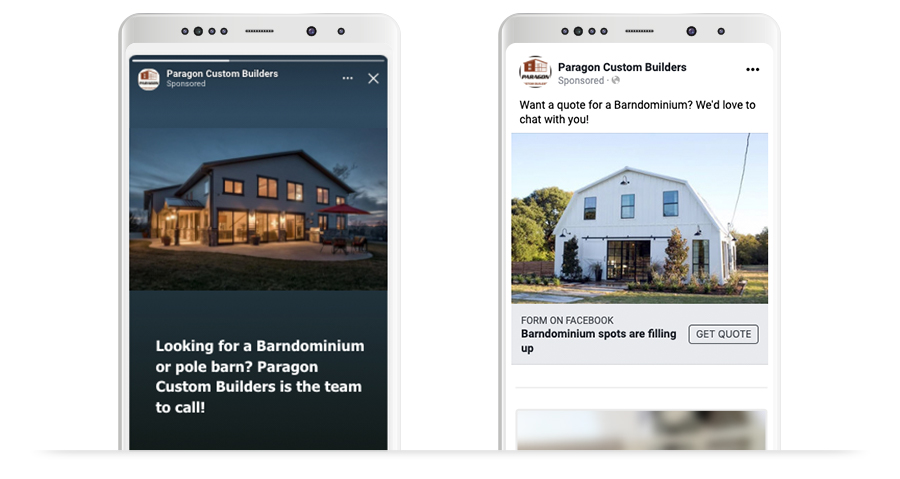 PARAGON CUSTOM BUILDERS
SOCIAL MEDIA ADVERTISING SUCCESS
We've worked with Paragon Custom Builders for a while on their website and web content. But at the beginning of 2021, they reached out to us to chat about a new project. They had noticed the market starting to resonate with Barndominiums. So they decided to venture out and create a campaign around building those pole barn construction homes.
Consulting on ad platform usage
Bring in new leads for their sales pipeline
RESULTS AFTER 2 MONTH REVIEW
CONSULTING FOR AD PLATFORM USAGE
We evaluated each ad platform and concluded that Facebook ads would be the best place to start with their ads. The reason we went with Facebook is their platform hosted the majority of their target market. The Facebook ad platform also has its ad structure set well for success on the campaign we'll be using. If the campaign continues to be successful, we will re-evaluate at three months and build out an additional campaign on Google ads.
BRINGING IN NEW LEADS FOR THEIR SALES PIPELINE
We initially set up a lead campaign structure on Facebook we targeted the ads towards their audience of choice and built them out to attract people interested in building new barndominiums. Throughout the two months of starting the ad spend, we have brought in 117 leads at the cost of $2.80 per lead. These leads have also shown their skills as builders and have helped them acquire leads for new custom homes, wedding venues, and more.